I like to play with images, decontextualize them and establish relationships between them in a multicultural and multiracial approach creating unexpected and unusual environments
Biografia
Brief biographical statement:
Alvarenga Marques or Al.Ma. is a Portuguese artist who was born in Mozambique , where she spent her childhood.  
 Actually she lives and works at Porto, in the north of Portugal, divided between teaching and plastic creation.
AlMa took her Licentiate Degree in Painting in 1992 at FBAUP (University of Fine Arts of Porto).
She has participated in several collective Exhibitions and activities since 1988 in Portugal, Germany, Brazil, France, Spain, Canada, etc., She held several solo exhibitions in Portugal and received some awards and distinctions both in Portugal and abroad.
AlMa comes from a generation of artists that has chosen, facing a saturated visual world, the appropriation and recycling of several images from varied sources, for the last twenty, thirty years. 
Yet, her inclusion in this group is controversial, since instead of the usual method of unconditional stealing of references, historic quotations and the respective recycling giving rise to a scattering of the meaning, her case has been revealing a restricted idiosyncratic orientation. That Alma wants us to be enraptured by this childhood world seems to be, in the very act, her aim. Though it clearly shows, at first sight, a good imitation of the compulsory childish trend to write and paint on inappropriate surfaces, the author's vandalism, only apparently innocent, goes obviously even farther.In this fluid, transparent and theatrical space, an interaction of mutual influence, either graphic or plastic, reveals itself – between the background pulsation (staging reality) and the overlapped drawings (paradigmatic of the childish imaginary). From this agitation an expressive strength of a nostalgic, metaphysic and a kind of lost time atmosphere appears. 
About her process the artist says:" I like to play with images and establish tensions, to focus attention from some icons by opposition to  others. At the present, I frequently use images like pop stars or very recognized objects in comparison with others less recognized, like   typical, regional or tribal ones.Sometimes this context creates a bizarre and an unexpected environment that I intend to catch the observer and lead him to wonder.I broach the subject with a playful mood, and use scrawls to demarcate the territory that represents my imagination".
Influências
Anselm Kiefer
Treinamento
1985-1992

Licentiate's degree in Plastic Art – Painting Porto, Portugal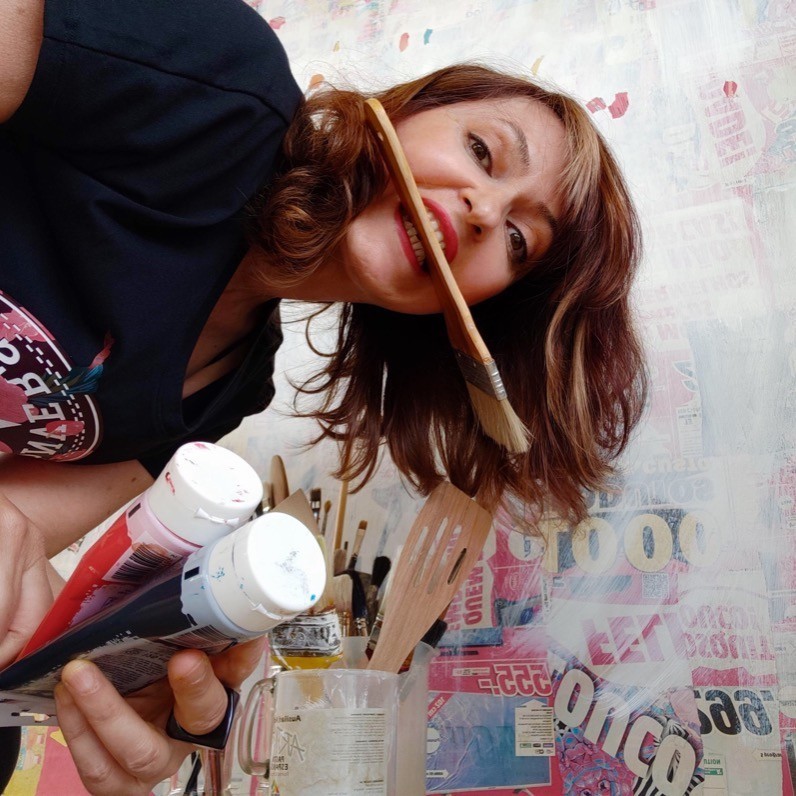 O artista no trabalho
Prêmios e Prêmios
---
2009 Painting Prize - "Encontrarte" Amares, Portugal
2004 III Fine Arts Prize-Baviera XXI century - Museum of Cerveira Biennial – V.N.Cerveira, Portugal
2003 Special Recognition – All Media . Painting III – Period Gallery – Omaha/Nebraska, Estados Unidos
2002 Prize show (artisti finalisti) -"IT ART 2002" Pisa, Itália
2002 1st Etching Prize – 7º Salón Internacional Mercosur Diogenes Taborda/ Buenos Aires, Argentina
2000 Acquisition Prize ( Magna Artis ) Gondomar, Portugal
1994 Revelation Prize – IV Bienal de Gravura Amadora, Portugal
Exposições Individuais
---
2018 Near from any Sea - Piso Dois Gallery Felgueiras, Portugal
2018 Crazy Cloud Time – Almedina Galery - Municipal Museum Coimbra, Portugal
2017 Color Blind – Tile Museum Ovar, Portugal
2017 Far from any Road (Retrospetive) –AMI Amiarte Foundation Porto, Portugal
2016 2 for1 (doblo solo exhibit) Alvarenga Marques+Tim Madeira –Acervo Gallery Lisboa, Portugal
2015 Higher than the Sun III – Arte & Cultura - Quinta da Boeira V. N. Gaia, Portugal
2013 Higher than the sun II - 57 Art Gallery Viana do Castelo, Portugal
2012 Higher than the sun - Trindade Gallery Porto, Portugal
2007 Till the sun turns black - Trindade Gallery Porto, Portugal
2002 Always on my mind - OM Gallery Penafiel, Portugal
2000 Submerso - Epicentro / Arte & Produções Culturais Porto, Portugal
1999 Em Terra de Cego - OM Gallery Penafiel, Portugal
1998 Tons Férteis – Municipal Gallery Matosinhos, Portugal
Exposições Coletivas
---
2021 Babuchas e as MULHERES, Shoe Museum S. João da Madeira, Portugal
2021 MasKollectiv Project #signs of Hope (Catalog/Magazine) Portugal
2020 Amália, Um olhar contemporâneo - Galeria António Prates Lisboa, Portugal
2020 25 Years in 25 Stories - Zet Gallery Braga, Portugal
2020 UnUknown 2020, International online exhibition Jabalpur, Índia
2020 The Art of Sherlock - 2ª special edition, Ilustration Book Estados Unidos
2020 Art Around Us, Bhopal, Índia
2020 Segunda Face, Betanzos - Coruña, Espanha
2019 'UBUNTU' - exhibition - 3ª Bienal Internacional de Arte Gondomar, Portugal
2019 'Arte em Lata' - Municipal Museum Espinho, Portugal
2019 'VII Bienal de Culturas Lusófonas', Exhibitions Center Odivelas, Portugal
2018 '80 Anos, 80 Interpretações de José Rodrigues' – Tribute to the Master - S. Paio Convent Vila Nova de Cerveira, Portugal
2018 'II Edition International of Artist Books at MAB' (Bahia Art Museum) Bahia, Brasil
2018 'Exhibition AMADEO' in context of Amadeo de Souza-Cardoso death centenary - Municipal Museum (FACE) Espinho, Portugal
2018 'HÁBITATS' , artistas Portugueses e Andaluzes Meca / Almeria, Espanha
2017 '4ª Bienal Mulheres D'Artes' –Municipal Museum / FACE Espinho, Portugal
2017 'Lethes Art '(1th edition) Ponte de Lima, Portugal
2016 'PORTUG'ART exhibition'- Grafton Street,23 (Myfair)- D Group Londres, Portugal
2016 'Arte Urbana em MUPIS , 20 artistas na cidade' – AMIarte Porto, Portugal
2016 'Art Map'(moving curatorial project) Ponte de Lima, Portugal
2016 – 'Quem Conta Um Conto '–Soares dos Reis Museum Porto, Portugal
2015 'LP 33' – Gal. Trindade Porto, Portugal
2015 'Woman With (He)art' - Da Vinci Art Gallery Porto, Portugal
2015 '3.ª Bienal Internacional Mulheres d' Artes '– Municipal Museum Espinho, Portugal
2015 ' I Bienal De Arte de Gaia 2015' V. N. Gaia, Portugal
Coleções permanentes
---
2021 Babouches Farouches, Shoe Museum S. João da Madeira, Portugal
2017 Tile Museum Ovar, Portugal
2016 Sculptor José Rodrigues Foundation Porto, Portugal
2015 AMIarte Foundation Porto, Portugal
2004 Bienal de Cerveira Museum Vila Nova de Cerveira, Portugal
2002 Volpe Stessens Foundation Buenos Aires, Portugal
2000 Museum of Portugal Bank Lisboa, Portugal
1998 Municipal Town Hall Matosinhos, Portugal
1995 Portuguese Cultural Center S. Tomé, São Tomé e Príncipe